Canada wide Shipping • Curbside Pick-Up • In Store Shopping • Virtual Shopping
Login
Log in if you have an account
Register
By creating an account with our store, you will be able to move through the checkout process faster, store multiple addresses, view and track your orders in your account, and more.
Create an account
Caring for Artist at the 2022 Toronto Outdoor Art Fair
16 Jul 2022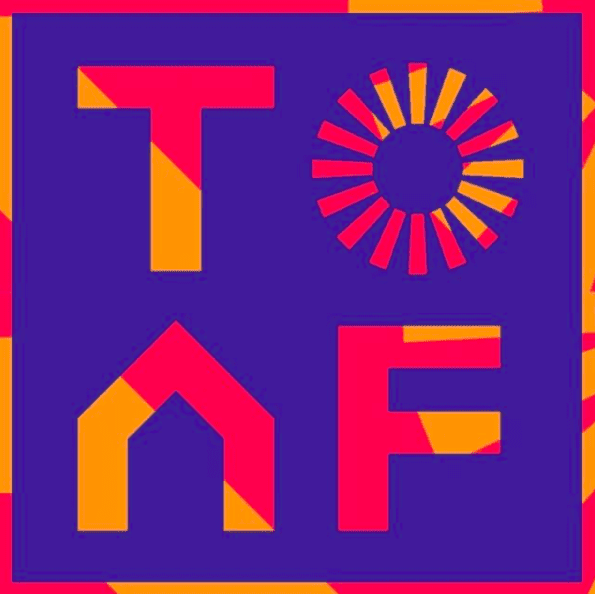 Last week, Marie and I attended the 61st year of the Toronto Outdoor Art Fair. 2022 marked the (very exciting!) return to Nathan Phillips Square after a two year hiatus of in-person programming.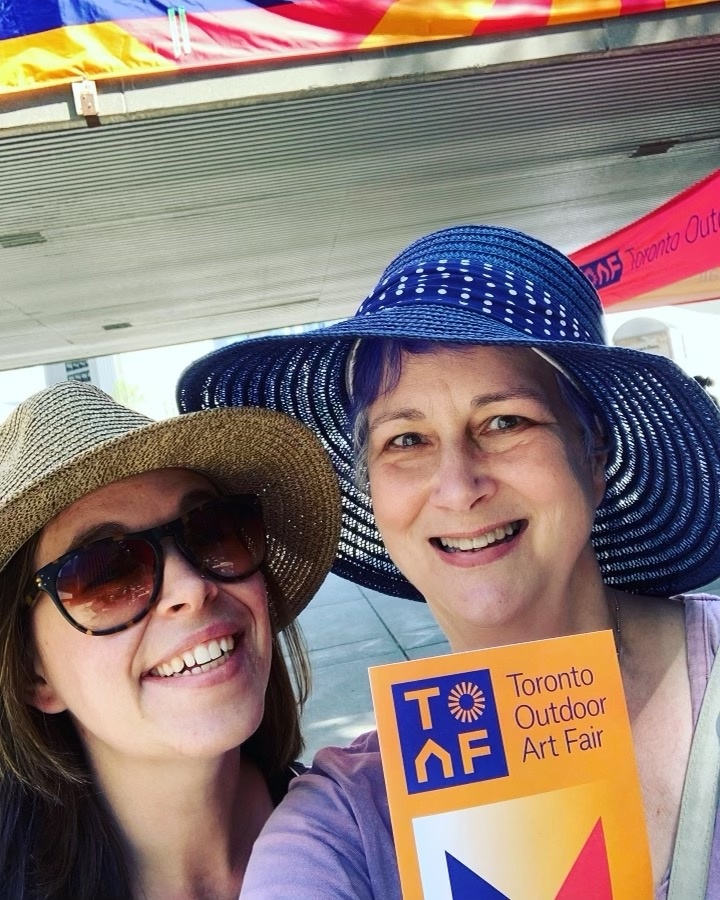 TOAF holds a special place in my heart. I am a previous exhibitor (circa 2010) and found the experience valuable in so many ways. The learning and connections I made through participating still reverberate now - and that has a lot to do with how the TOAF team collaborates with their artists. They do EXTENSIVE work to support participants, and are radically welcoming of all artists at all stages of their careers. In addition, this years programming was the most extravagant yet as it stretched beyond the booths with performance, live painting, and site specific installation. All while continuing with their online fair component (that started because of the in-person hiatus!). So - it was pretty great.
There is a lot of excitement (and exhaustion!) that accompanies exhibiting in an art fair. I've always thought the journey felt akin to running a major race. Participating in an outdoor art fair is an investment of finances, stamina and strength.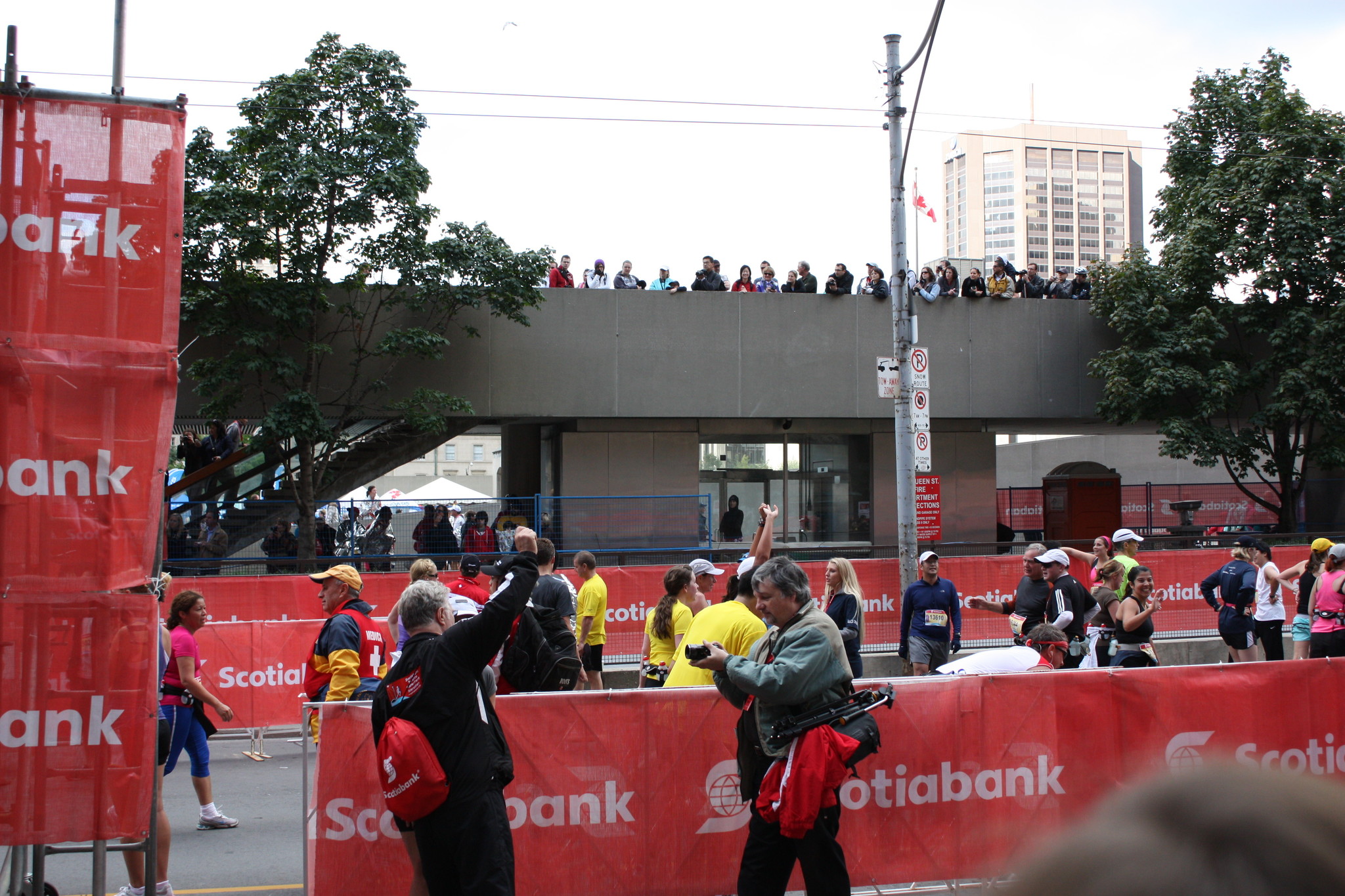 First, you likely train/prepare work for it all year (which means scheduling regular studio time, possibly renting or creating studio space, purchasing art materials and stocking and replenishing tools.
Then, you invest in the appropriate gear for 'race day' to ensure optimal performance. In this case, that could be documenting work for your website, framing, building installation solutions, preparing signage, securing art work transport, and buying shipping materials etc. 
And finally in the pre-game stage, there is travel/hotel costs, booth fees and tent rentals — and this is all before the main event.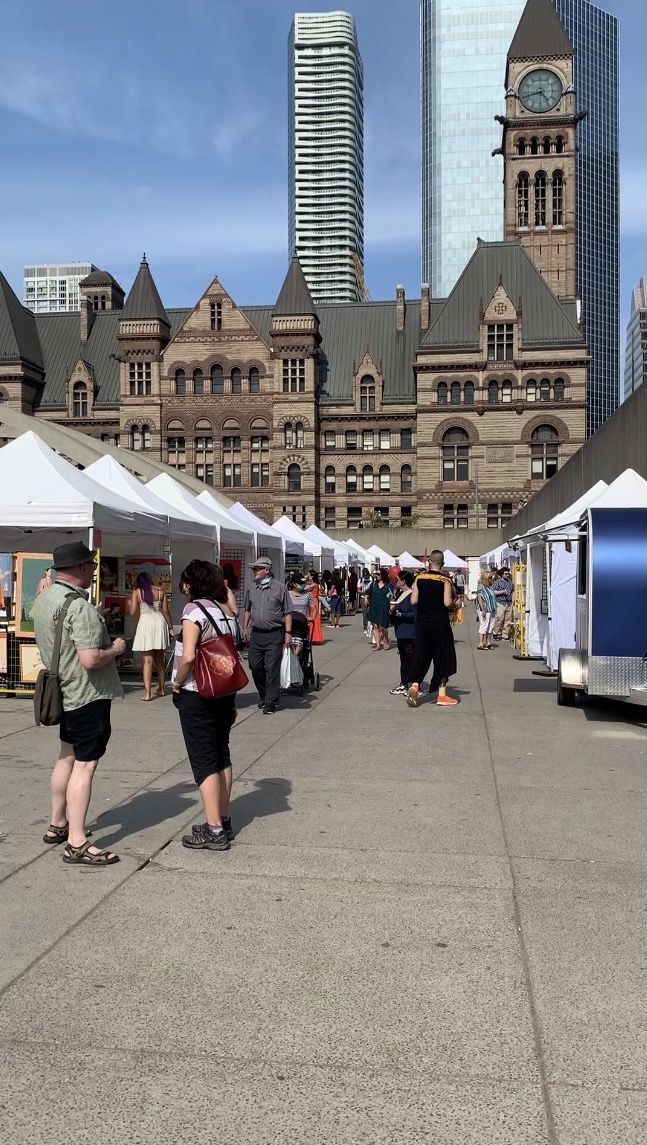 Then comes the main event. Race day(s). The 'race' is run wearing business casual to semi formal attire (or at least something more professional than a bathing suit, which is probably what you'd like to be wearing because it's so hot). After spending pre-opening morning hours installing or reinstalling work, the 'doors open' to the public, and you will spend the day talking about your work (hopefully in a coherent way) to prospective clients for three consecutive 8+hr days while your brain and body are melting into a puddle in 30 degree weather on a pavement jungle. Feats of strength folks, Feats. Of. Strength.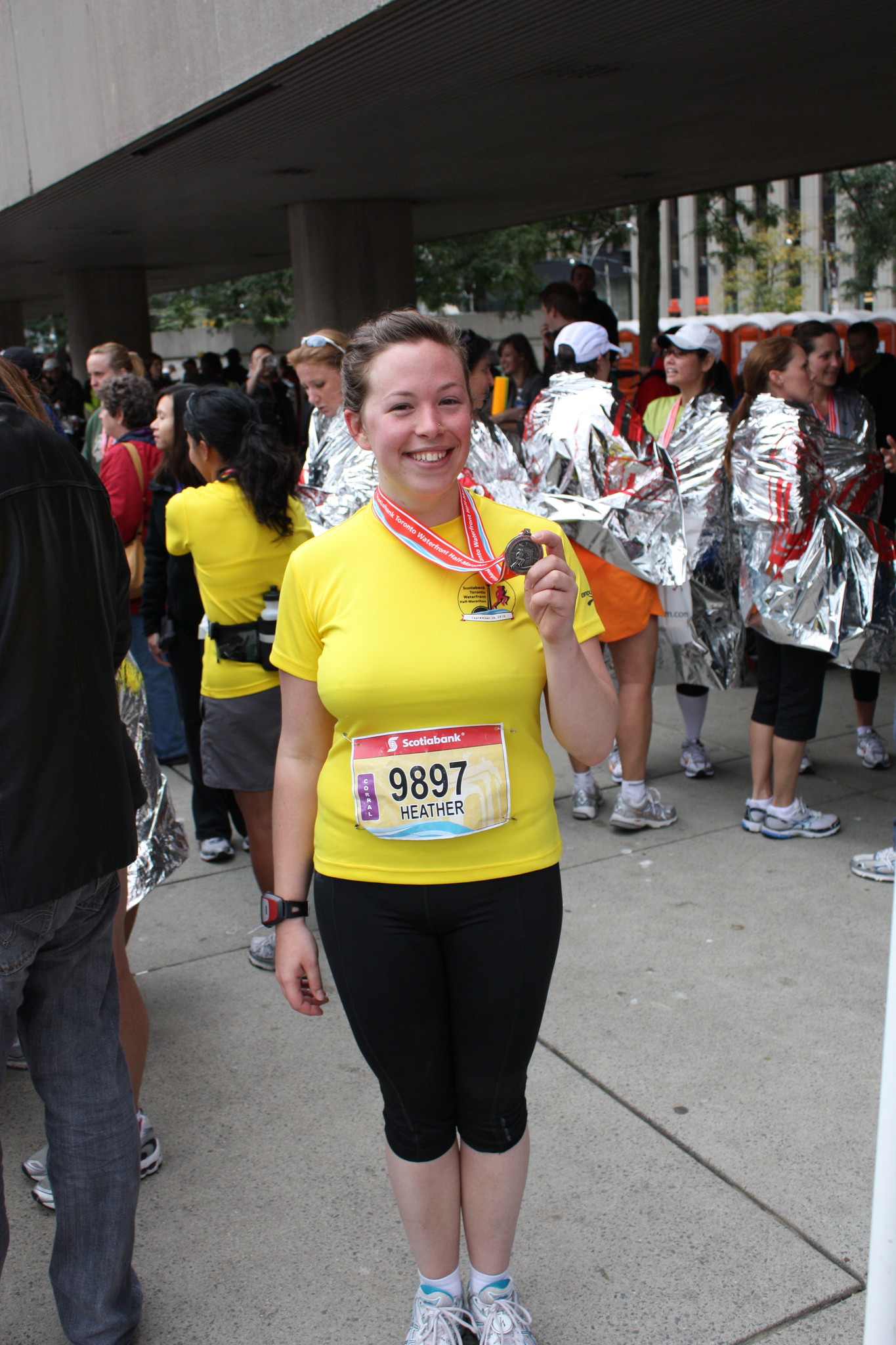 My comparison might have something to do with the fact that the summer I participated in TOAF myself, I also ran a half marathon…that coincidentally also ended in Nathan Phillips Square? So maybe there was some overlap in my brain, but I think it lands!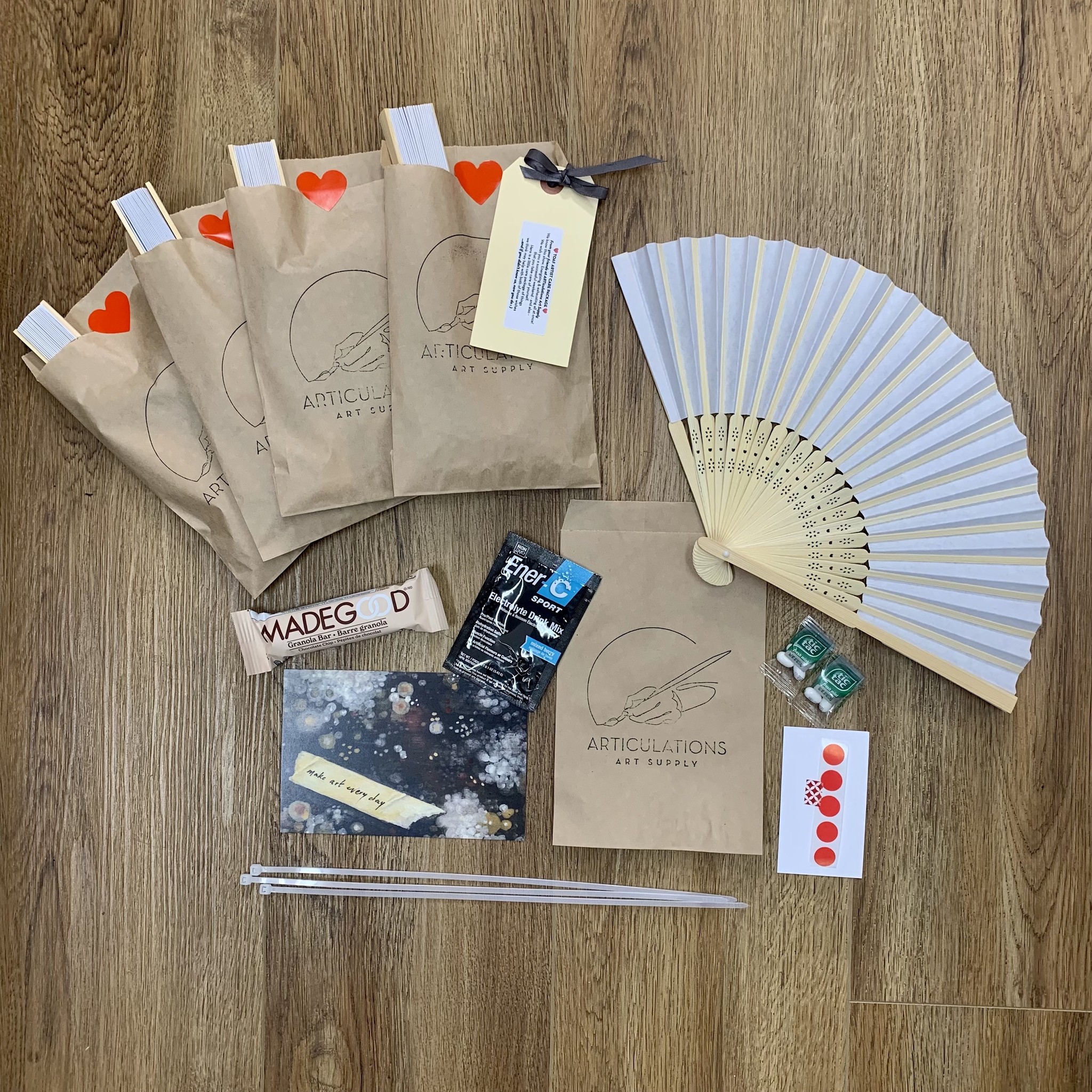 So, inspired by my very memorable bodily awareness of this event, not only did we want to come and celebrate the artists exhibiting, we wanted to care for them. We put together as many care packages as we could, loaded them into a wagon and gave them out to artists in their booths. They contained a few select items to make the weekend go a little smoother. We weren't able to reach everyone and we're sorry if we missed you!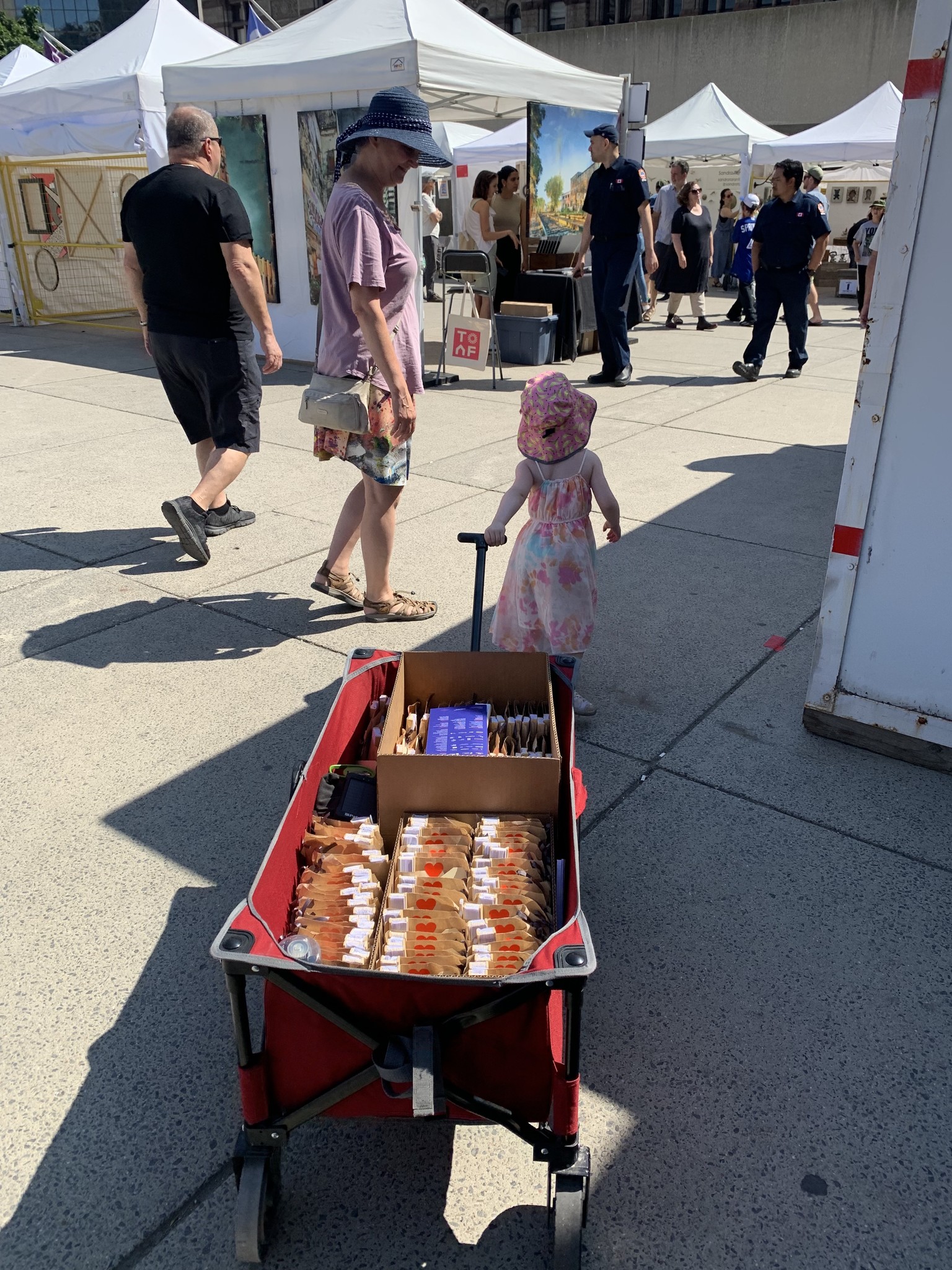 It was wonderful to spend the day connecting with friends, colleagues and customers…and making new friends along the way. We love TOAF, and Marie and I were SO READY to see some art (and artists!) in person once again. Our hearts are full and can't wait until next year.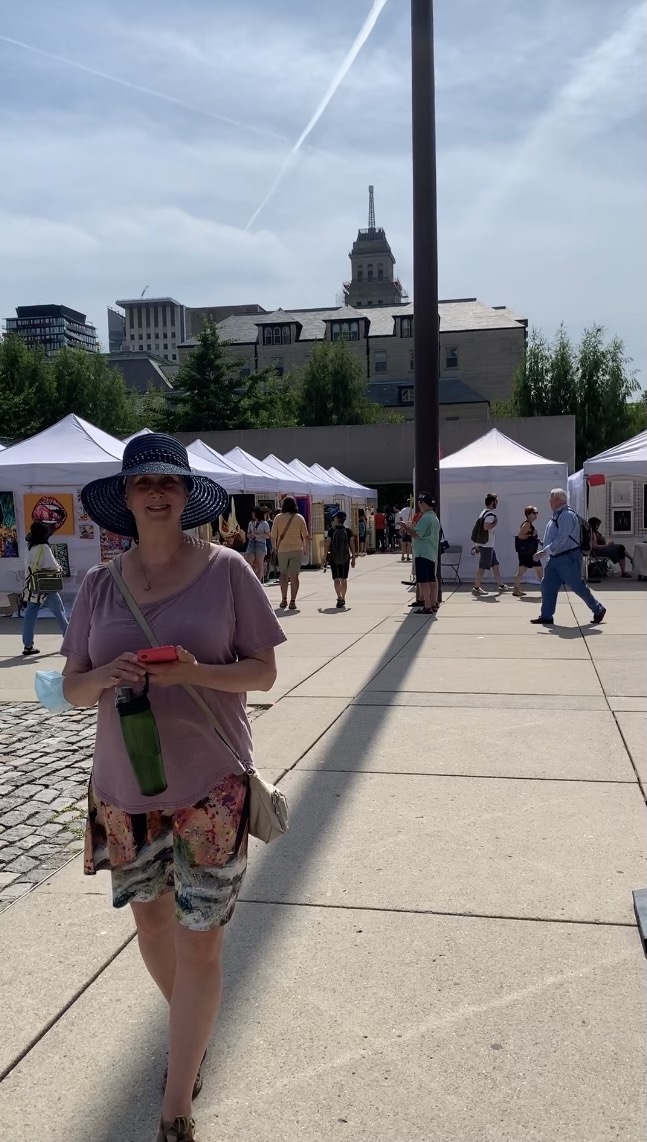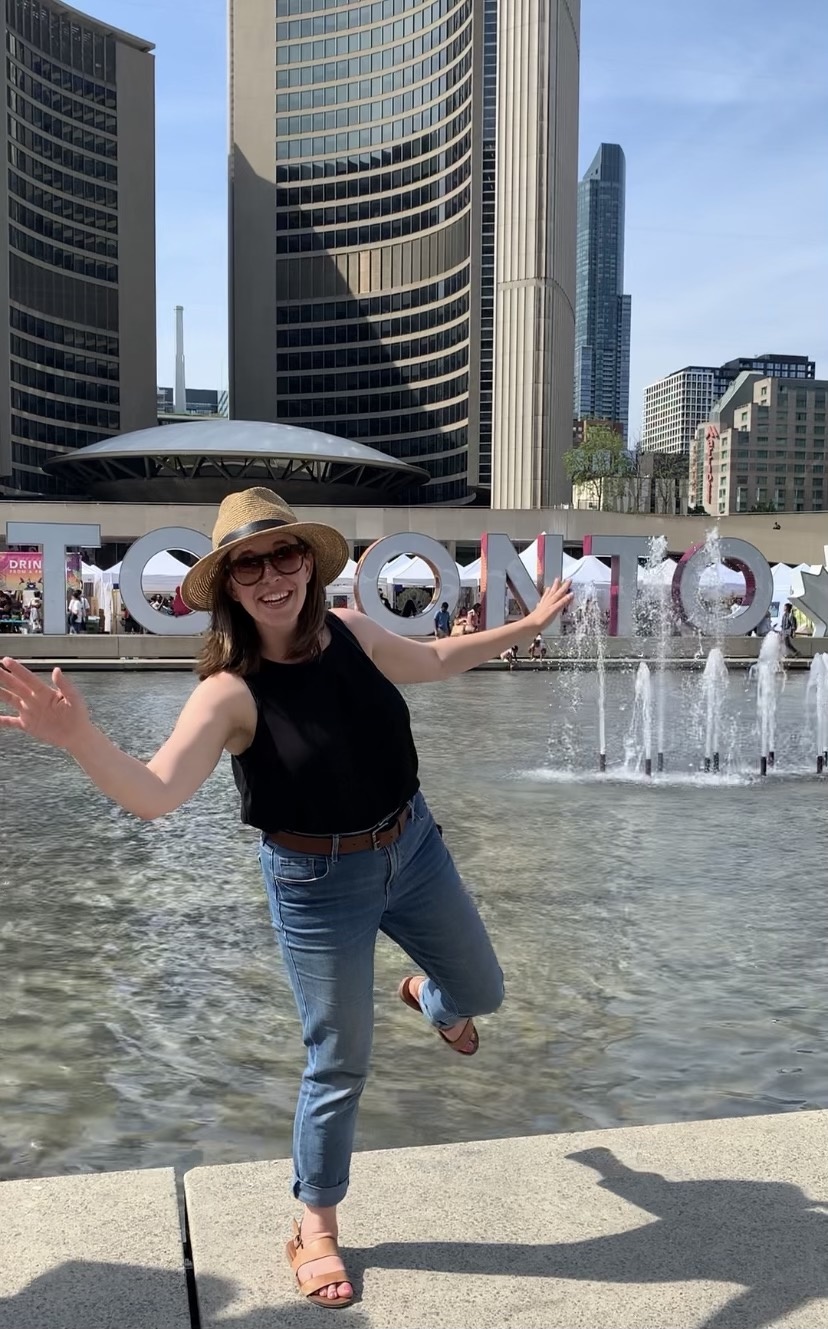 Click here to learn more about the Toronto Outdoor Art Fair. 
Interested in applying? The call goes out early in the year (Jan/Feb) - join their newsletter to stay up to date!
This is my *only* photo that I can find of my booth - and you can see that I'm not even in it. It was one of my first outdoor art fair experiences, and it was pretty DIY - but you have to start somewhere!