Canada wide Shipping • Curbside Pick-Up • In Store Shopping • Virtual Shopping
Login
Log in if you have an account
Register
By creating an account with our store, you will be able to move through the checkout process faster, store multiple addresses, view and track your orders in your account, and more.
Create an account
2023 Fill'er Up Sketchbook Challenge
*REGISTRATION IS NOW CLOSED* Our annual FILL'ER UP Sketchbook Challenge takes place March 1-31, 2023. We're back again for our 12th year to challenge you to fill up an old sketchbook or start a new one! We've included ways to participate; Details below.
12th Annual ARTiculations FILL'ER UP Sketchbook Challenge
MARCH 1ST TO 31ST, 2023
Coming together in Art making solidarity to get you through the winter slump by challenging YOU to fill up an old sketchbook or start a new one!
Registration is now closed.
During the month of March, ARTiculations wants to challenge you to do one creative thing a day in your sketchbook. Start sketching. Start painting. Start writing. Start making time for yourself to do anything that YOU choose to be your creative outlet.  And do it every day. Every. Day. This is open to all ages, abilities, ideas and interpretations.
Why sign up?
By signing up, you are joining a community of Sketchbook Challengers that have all come together in Art making solidarity to get through the winter slump! This is an independent-but-with-accountability-and-motivation challenge for you to complete on your own time.
Independant-But-With-Accountability-And-Motivation Whaaat?

To keep you motivated throughout the month, we will be sending you weekly newsletters filled with sketchbook prompts, thoughts on creative practice, cool art materials and inspirational spotlights on co-challengers work! We also host 6 virtual sketchbook meetups throughout the month where you can connect with your fellow challengers to work on your challenge.
Craving more connection and engagement to stay on track?
Once registered, you can join our private online Fill'er Up Sketchbook Challenge Community Group where we can stay in touch, share progress and generally just cheer each other on!
Be part of our group art exhibition and share your month!
Regardless of how many pages you fill, you are automatically included in the FILL'ER UP Group Exhibition, which takes place April 9 - June 7, 2022 in our Junction Meets Project Space at ARTiculations Art Supply. The exhibition celebrates the sketchbook work created throughout the challenge by participants. We will also be bringing back our popular weekly Insta Live Sketchbook Lunch Breaks to show off your work!
Take a look at our new sign up packages
Based on feedback from our Challengers, new this year we have dreamt up even MORE ways to expand how you can participate and stay motivated throughout the challenge - any BEYOND!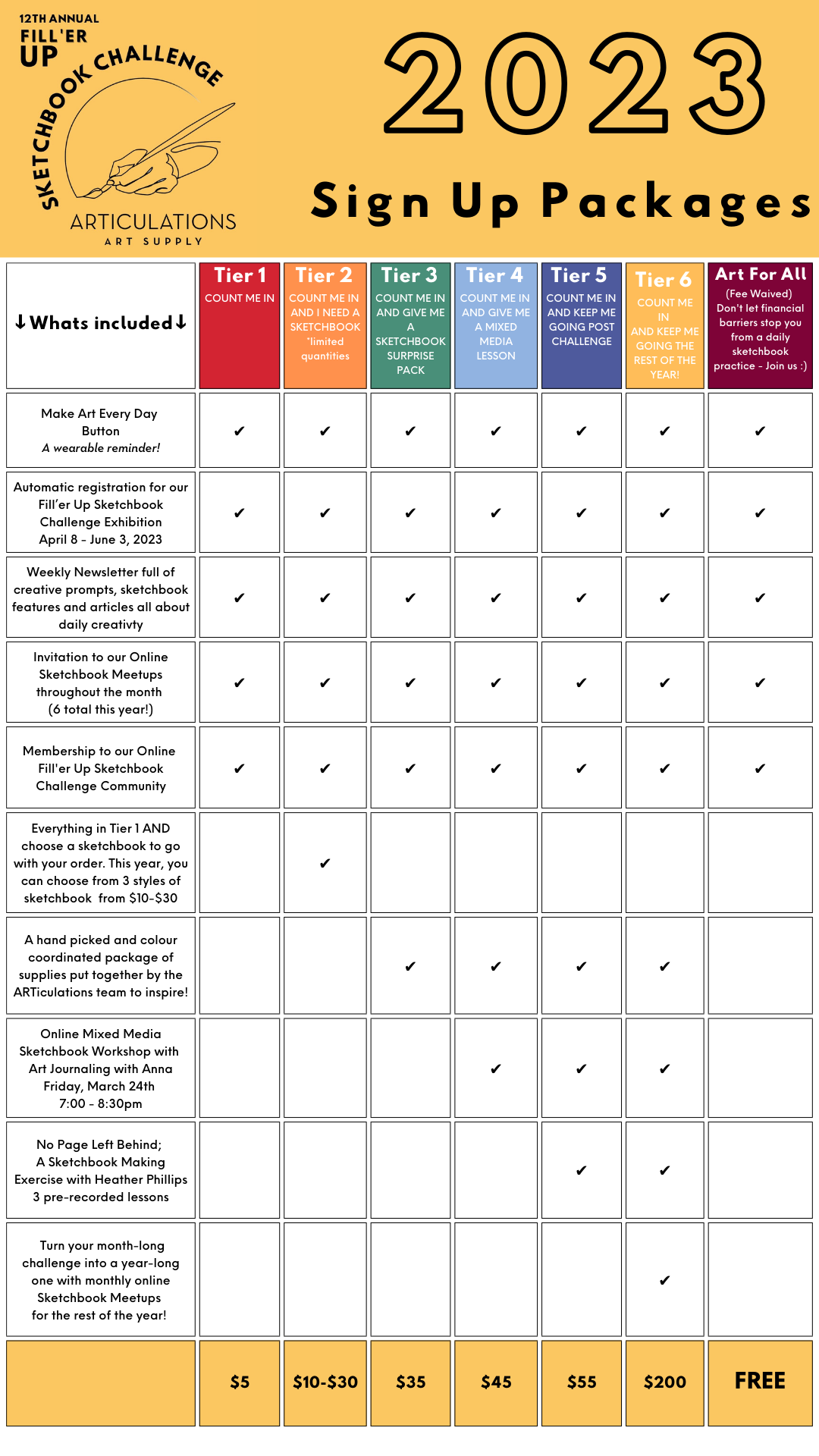 COUNT ME IN - Tier 1 $5.00
Includes a snazzy Make Art Every Day button, weekly newsletters, 6 online meet ups throughout the month, access to our private online Fill'er Up Sketchbook Challenge Community Group and automatic registration for our Fill'er Up Sketchbook Challenge Exhibition. Yeehaw!
COUNT ME IN AND I NEED A SKETCHBOOK - Tier 2 a,b & c $10.00 - $30.00

Includes everything in Tier 1 AND your choice of 3 different styles of sketchbooks to suit your needs.
COUNT ME IN AND GIVE ME A SKETCHBOOK SURPRISE PACK - Tier 3 $35.00 
Includes everything in Tier 1 AND a hand picked, colour coordinated package of supplies put together by the ARTiculations team. We want you to keep momentum and stay curious while forming or brushing up on daily creative habits. What better way than a little present to explore throughout the month to keep you inspired?! The materials included will be highlighted throughout the challenge so will feel familiar and exciting to explore! *New additional goodies this year including a glue stick, more Japanese Paper, a new pen and paint! PACKAGES AVAILABLE FOR PICK UP LATE FEBRUARY

COUNT ME IN AND GIVE ME A MIXED-MEDIA LESSON - Tier 4 $45.00 
Includes everything in Tier 1, Tier 3 AND a March 24th, 2023 Live Online Mixed Media Workshop on Friday March 24th, 7:00-8:30pm focusing on Backgrounds with Art Journaling By Anna, a veteran Sketchbook Challenge Alumni and Co-Creative Navigator of this years Challenge. We will use items from your Future Self Package so be sure to pick this up! *This will be recorded and made available to registrants after the workshop.

 COUNT ME IN AND KEEP ME GOING POST CHALLENGE - Tier 5 $55.00 
Includes everything in Tier 1, Tier 3, Tier 4 AND enrolment in our pre-recorded online class, No Page Left Behind; A Sketchbook Making Exercise with ARTiculations owner and Creative Navigator, Heather Phillips. Dive in with Heather as she shares this creative process exercise that will help bring together your scattered pages, doodles, notes and ideas into a bound compilation ready for further exploration. Includes 3 pre-recorded lessons, available April 1st, 2023.
*NEW*
COUNT ME IN AND KEEP ME GOING ALL YEAR LONG - Tier 6 $200.00 
Includes everything in Tier 1, Tier 3, Tier 4, Tier 5 AND together we will turn this month long challenge into a YEAR LONG CHALLENGE to make 2023 your most sketchbook-y yet! Join ARTiculations Owner and Fill'er Up Sketchbook Founder, Heather Phillips for monthly virtual meetups for the rest of the year on the first Thursday of every month, 11:45-1:00pm. Each session will include a guided sketchbook warm-up exercise, a creative prompt, solo sketchbook time and sharing.
(2023: April 20, May 18, Jun 15, July 20, August 17, September 21, October 19, November 16 & December 21)
ART FOR ALL - Fee Waived (Free!)
Includes everything in Tier 1. Don't let financial barriers stop you from a daily sketchbook practice - Join us :) Need a sketchbook to make it possible? Get in touch - we want you with us!
To Recap, Here are your steps to complete;
1. Choose the option that's right for you and register.
2. Sign up for your exclusive Fill'er Up Sketchbook Challenge weekly newsletter. (Note: This is NOT our general newsletter subscriber list). Look for instructions and the link in your order confirmation email (this is automatically sent to you when you register). Watch Video Instructions: https://www.loom.com/share/130badd25b94436f98bef8bc528b8a13
FYI- This is the #1 way we keep in touch with you and you'll want to do this so that you receive ALL correspondence during the challenge, as well as reminders and updates about your exhibition. This is also where we send out the links to join us for our virtual sketchbook meetups throughout the month. And, if you're not seeing anything- check your spam folder! Newsletters will start March 1st.

2. Start filling that sketchbook! Use an old sketchbook or start a new one! Beginning March 1st, we'll post ideas and encouragement. Join our New Online Private Group. Stay tuned for online sketching meetups, and group encouragement to keep you motivated!
3. Drop off your sketchbook for our exhibition: Drop off dates: April 1-6, 2023. Indicate a specific page to be open for display and whether or not we can flip through when we feature your book on our Insta Live Art Lunch Breaks. Exhibition runs April 8 - June 3, 2023 with Insta Live Art Breaks taking place on Wednesdays at noon each week. No matter how many pages you fill, be part of it!
5. Become very inspired and feel the amazing effects of making sketching part of your daily life! Why wait until March? Start sketching now! Make use of those half filled sketchbooks you have sitting around. Get it!
Share your month with us! 

Tag us @ARTiculations_TO

#FillerUpSketchbookChallenge
0 review
0 stars based on 0 reviews
Add your review
Review 2023 Fill'er Up Sketchbook Challenge